Microsoft Dynamics 365 Business Central
Microsoft Dynamics 365 Business Central is an all-in-one business management solution designed for growing organisations who are being held back by their legacy ERP systems
Micrsoft Dynamics Business Central is the most popular mid-market ERP system in the world, with well over 165,000 companies using it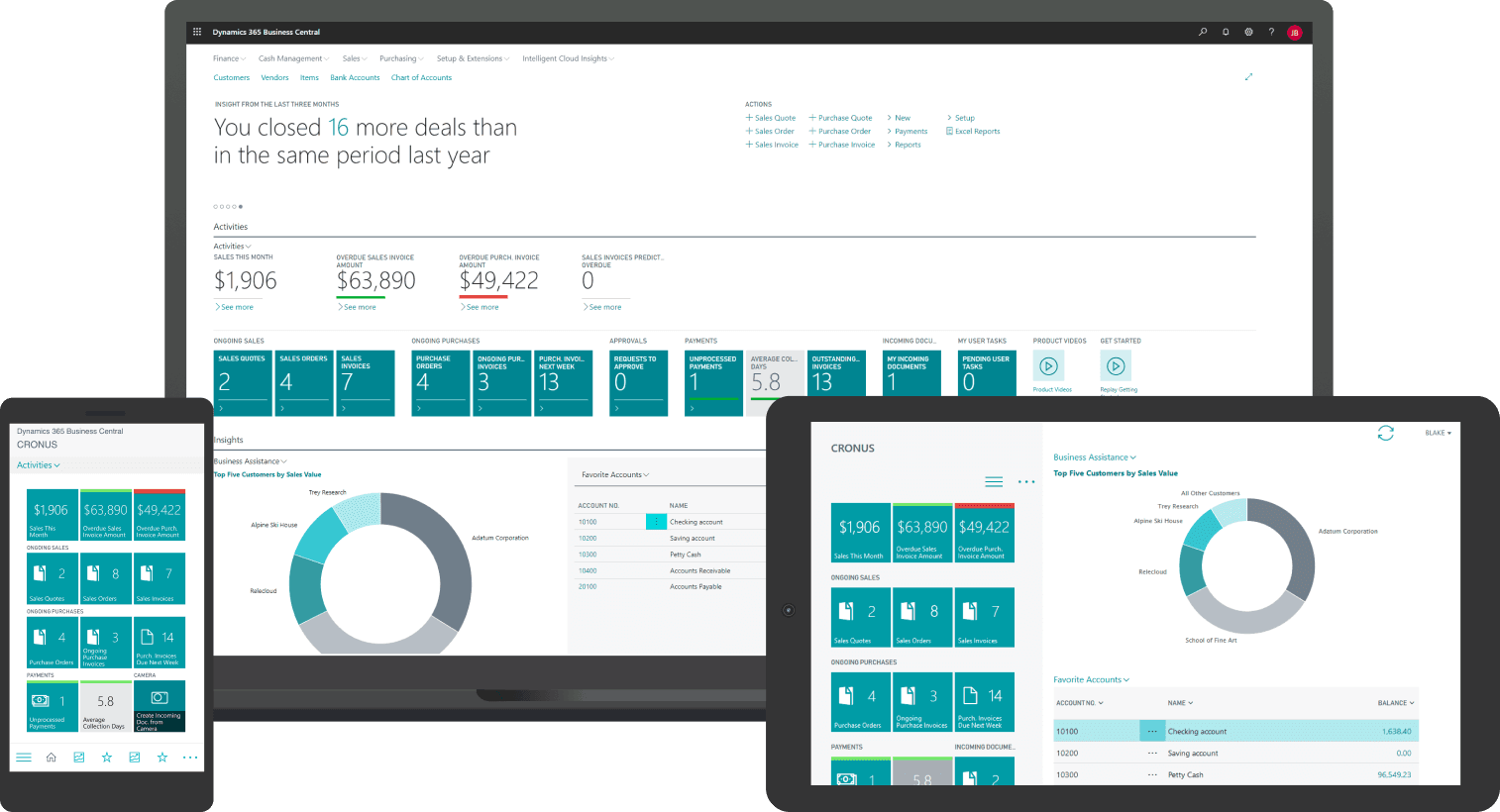 Unify your business, and boost efficiency with automated tasks and workflows
Microsoft Dynamics Business Central manages finances, operations, inventory, supply chain, service management, manufacturing, sales and customer service within a single application. Streaming business processes, improving customer interactions and empowering users to make better decisions.
Business Central is the most popular mid-market ERP system in the world, with well over 165,000 companies using it.
Make smarter business decisions
Achieve greater outcomes and gain a complete view of your business with connected data, business analytics, and guidance delivered by Microsoft's leading technology
Get up and running quickly, grow at your own pace and adapt in real time with Microsoft Dynamics Business Central 365 which is a flexible platform that makes it easy to extend Business Central based on changing business needs
Choose to purchase the solution On-Premise or reduce your capital expenditure exposure by leveraging Software-as-a-Service. Business Central provides the flexibility to meet the budgets of any organisation. Microsoft Dynamics Business Central 365 Essentials: The cost is from £52.79 per user per month.
The Essentials package covers almost everything available in Business Central. This includes:
Financials, Operations Management, Supply Chain, Sales & Service 
Management and Reporting & Analytics
Dynamics 365 Business Central Premium: The cost is from £75.40 per user per month.
The Premium package covers everything within Essentials, as well as added functionality for manufacturing and service order management.
Microsoft Dynamics 365 Business Central Team Members: The cost is from £6 per user per month. Team members are add-on licenses for users who need limited access to the system.
Download our free capability guide
Microsoft Dynamics 365 Business Central is an enterprise resource planning system from Microsoft. The product is part of the Microsoft Dynamics family. Here's our free capability guide for full information on the product.